Customer experience trends change from year to year.
It's true that annual prognostications about what the year ahead has in store can be as futile as guessing the World Series champions next fall (of course, we're rooting for the Red Sox). Blind forecasting of trends will most certainly set oneself up for predictable failure.
At the same time, it is certainly more than possible to take an educated guess based on trends that are already making themselves apparent. So let's take the plunge!
From my point of view, here are the top three customer experience trends that seem most likely to materialize in a meaningful way.
1. Information-heavy tasks bolster desktop-only Internet usage
Without doubt, mobile dominates nearly all facets of Internet life. However, mobile has significant limitations when it comes to complex applications.
For example, completing taxes or signing up for insurance can be difficult to accomplish via a mobile device. Yet customers need to be able to easily accomplish these kinds of transactions. Thus, mobile becomes more of a challenge, even for the most optimized website.
This is the year that customer experience innovation will result in real-life usability. As a result, customers will gain the confidence that, while they can do a great deal via self-service, help will be there when they need it – even if they're using a mobile device.
2. Investment in technology is poised to expand
Signs point to expanded investment in capital projects that have been put on the backburner for far too long. This extends to industries that have postponed forklift upgrades to their technology infrastructure – both front-end and back-end.
With cloud adoption and SaaS models imparting cost control and greater efficiency, companies will look for ways to blend intelligence in their CRM (like Salesforce or Microsoft Dynamics) to orchestrate closer relationships with their customers.
Read: Why Do You Need a CRM?
3. Companies remember their customers
Metrics, Big Data, and analytics have abstracted how a company treats its customers by automating and mapping a journey from prospect to loyal brand advocate. Now companies will take that data and use it to improve and personalize the customer experience even further.
Customer service teams will embrace their role as accessible guides for peripatetic users. In parallel, executive philosophy will turn more positive, viewing customer service as an opportunity to win a customer and foster a positive relation, rather than simply as a means to solve problems and reduce handle time.
Read: Supercharge Customer Experience
These customer experience trends are not just fads
The year ahead is fraught with many unknowns, like many years before it. Yet it is clear that customer experience is becoming increasing central to business success.
At Glance, we look forward to the opportunity to grow from what we've learned in the past and set the stage for helping companies strive to deliver exceptional customer experiences.
Ready to learn more about how you can take your CRM to the next level with visual engagement? Check out the Glance for Salesforce data sheet to learn more.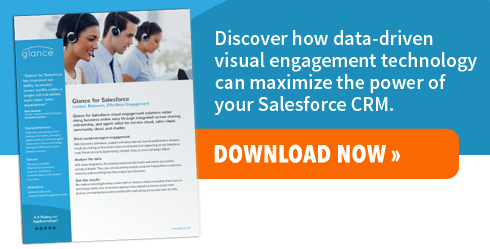 About Glance Networks
Glance helps enterprise organizations create the ultimate customer experience with smart, omni-channel visual engagement solutions based around integrated cobrowse, screen share, and one-way agent video. We are one of the world's simplest, most reliable and secure platforms that enable companies to see, show and share anything online, creating a frictionless path to great experiences in sales, support and customer service. The result is improved customer satisfaction and loyalty, increased revenue growth and operational savings. From financial services and healthcare to retail and travel and leisure, even the most advanced technology and SaaS organizations – we transform the customer experience for today's business. Learn More »
SaveSave
SaveSave
SaveSave
SaveSave