If you're a business owner or manager, then you likely already know why great customer service is imperative to the success of your business.
It's simple math: Poor customer service equals poor retention. And poor customer retention equals poor profits.
Recent stats show that businesses in the U.S. lose $62 billion dollars each year due to poor customer service.
I know what you're thinking "…but my customer service is already great!" That may be true, but the consequences of being wrong are too severe. Word of mouth spreads across social media like wildfire. Tales of bad customer service run rampant.
So we're left with the burning question, "What can I do to improve my customer service if it's already great?"
Enter the power of customer journey mapping.
What exactly is customer journey mapping?
A customer journey map is a powerful visualization and storytelling tool. It helps your team to better understand and address customer needs and pain points as they experience your product or service. Mapping out the touchpoints of a customer's journey helps you to see potential pain points from an unbiased perspective.
Customer journey mapping is a common practice in the UX/UI field. It's also gained traction in recent years with other product and service verticals. Business owners and managers alike are coming to realize that data alone fails to communicate the pain points and experiences of customers. A story can do that, and one of the best storytelling tools in business is the customer journey map.
While it's important to note that a customer service journey map by itself won't ensure the outcomes you're looking to create, it can be incredibly useful as a tool to better understand what it's really like on the customer's side of the experience. (We dive a bit deeper on the strengths and limitations of the customer journey map here.)
What does a great customer journey map look like?
The following image depicts a basic customer journey map. Note the typical emotions of the customers as they go throughout each stage of their journey: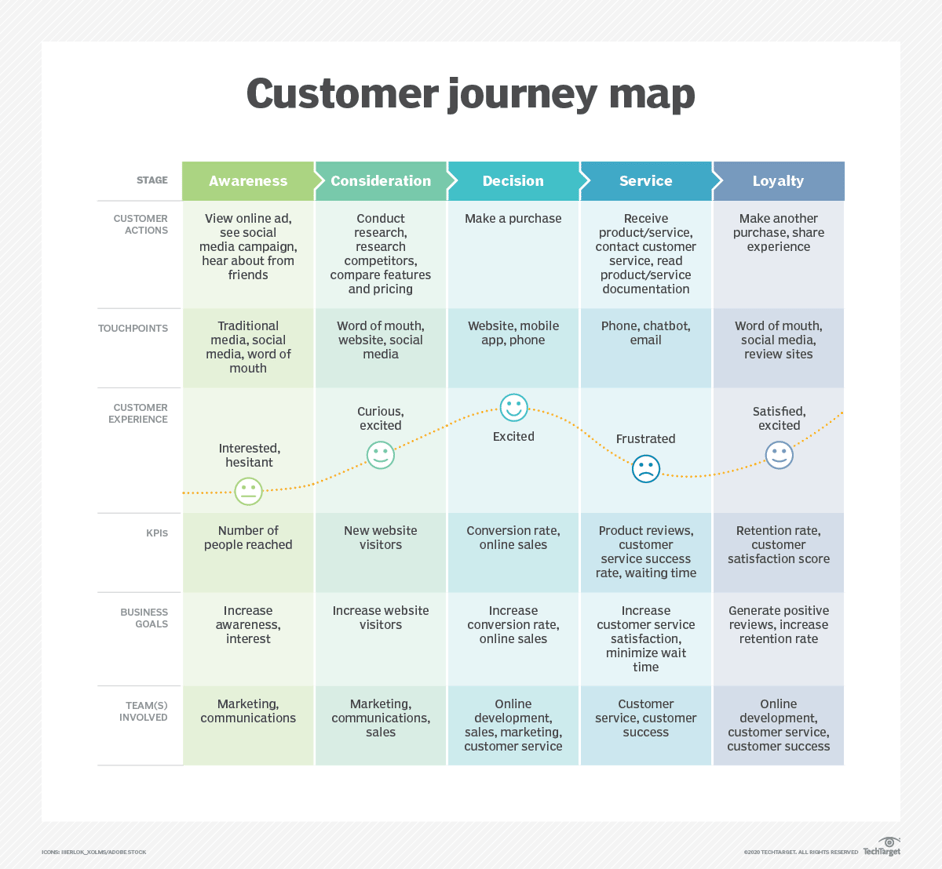 Image via TechTarget
While that template illustrates an average customer journey, it's important to note that every company should have a slightly different one – and even the best customer journey map won't necessarily reflect the actual customer experience as it is (but more on that later).
Creating a customer journey map
Customer journey maps can (and should) take a wide variety of forms. The end goal, however, is always the same: find and resolve the pain points of your customers … a.k.a friction. So, what's the first step to creating a great journey map?
1. Define your persona (lens)
All customers are different, but it's important to create a few personas that help you to understand their unique perspectives. For example, in the customer journey mapping of a grocery store purchase, a mother of five young kids will have a much different lens than a single male in his 30s.
2. Identify the timeline of your customer journey
Once you've defined your persona, you have to identify the length of the buyer's journey. How long does it take to start at consideration all the way through purchasing your product? This is done in a finite amount of time (e.g., 1 week or 1 year) or variable phases (e.g., awareness, consideration, decision).
3. Plot the touch points
Next, identify what and where the customer actions and interactions are occurring. Whether they're paying a bill online or picking up a cake, identifying these touch points and use these as your horizontal axis.
This is also a good time to understand how your customers might reach out to you. Will it be over the phone? Using chat? Through social media? Knowing the channels your customers use most lets you better understand where to put your customer service resources.
4. Plot the emotions, actions, and questions
Now you've reached what is arguably the most critical step in customer journey mapping. It's essential to plot out the emotions, actions, and questions that a customer experiences during each touchpoint. Brainstorm and reflect on past experiences to uncover responses point through the lens of each persona.
5. Determine points of friction
Every business will look through the lens of their customer personas differently. Walking through each of these columns with your team will help you to identify any points of friction within the customer experience.
Of course, every business is different and YOU will know your customers best. Below are a few example questions to get you started:
Where could friction appear in this particular touchpoint?

Are people abandoning purchases because of this?

Are customers not aware of this solution that we've already provided? If so, why not?
Also, while it's always worthwhile to identify potential points of friction with a customer journey map, it will always be more impactful if you have a way for customers to reach out for support, no matter where they are in their journey.
This is precisely where Glance Guided CX solutions can provide a one-button avenue for people to connect with members of your team, demonstrate exactly where they're having trouble, and receive hands-on support from someone they can see and speak to.
6. Resolve where you can
Once you've had a chance to identify the points of friction that customers experience, it's time to step back and start thinking of solutions. This is where you'll find it most helpful to get input from your team, as they'll have perspectives from all sides of the business.
You should also think about what medium you will use to solve problems. Is it about better training so customer support can answer complex questions? Having the right visual engagement tools on your website to quickly see and solve online issues? Making sure there are enough customer service employees to handle requests?
Final thoughts
The next time you have an upset customer, think about how journey mapping could help to proactively resolve that kind of situation.
Now that you've taken the time to learn about how to master your customer journey map, it's time to create a few for your own business. If you're interested in learning more about the process, we've listed a few helpful resources below:
And to get a real sense of how Glance Guided CX solutions lets your customers reach out to your support team precisely where and when they need help – feel free to reach out for a quick demo here!