Live chat and Guided CX are a dynamic duo that's transforming customer interactions across various industries. Live chat serves as the frontline of communication, offering customers instant access to assistance. It's fast, convenient, and favored by consumers. However, sometimes words alone aren't enough. That's where Guided CX steps in, enriching live chat with visual and interactive elements. In this post, we'll explore how this synergy is reshaping how companies connect with their customers and enhancing the overall customer journey.
Live chat is a must-have channel…
It's pretty clear these days that when we want to connect with a company, live chat is the way to go. It's gone from being a "nice extra" to something a business must have. The use of live chat is skyrocketing, and its influence on our buying decisions and our preference for getting support is only growing:
All of this is leading to some seriously good results for businesses. When you chat with a company, you're likely to have a pretty satisfying experience — the Customer Satisfaction (CSAT) score for live chat interactions hovers around 85%. And businesses are seeing some fantastic outcomes — boosted sales, increased revenue, and happier, more loyal customers when they offer live chat as an option. It's clear that live chat is a game-changer for businesses, making customers and companies alike pretty darn happy.
…but doesn't always meet expectations
Although it's helping businesses achieve results, there are some chinks in the armor when it comes to the live chat channel. Over the past year, we've seen something unusual: a 3% drop in the average Customer Satisfaction (CSAT) score for live chat. That's the first time we've seen a decline in four years, making some CX experts scratch their heads.
But it doesn't stop there. About 38% of customers out there are pretty frustrated with the whole live chat experience, and it's mainly because of the less-than-stellar user experience they're encountering.
Now, here's where it gets interesting. Many companies hopped on the live chat bandwagon to make their contact centers more efficient. Now it turns out that might be backfiring, as 95% of customers would actually prefer slower support if it meant they'd get higher-quality help. People don't want to feel like they're on a conveyor belt when they finally connect with a human. They want to savor that moment, get the help they need, and not be rushed away like they're at a fast-food drive-thru. It's all about quality over speed, and it's something many of us can relate to from our own experiences as customers.
Take live chat to the next level with Guided CX
Sometimes, written words in a chat window just don't cut it. There are those moments when you need more than just text to really understand what's going on. That's where something like Guided CX can be a game-changer.
With Guided CX, you're not just telling customers what to do or how to solve a problem; you're showing them. It gives customers a visual guide right there in the chat, and it can make a world of difference. It speeds up understanding, gets issues resolved faster, and makes it a lot easier for customers to remember how to tackle similar problems in the future.
And here's the kicker: when you combine a fantastic customer experience with an equally awesome employee experience, you're not just creating great customer experiences; you're crafting something we like to call great human experiences. It's all about making interactions smoother, more efficient, and ultimately, more enjoyable for everyone involved.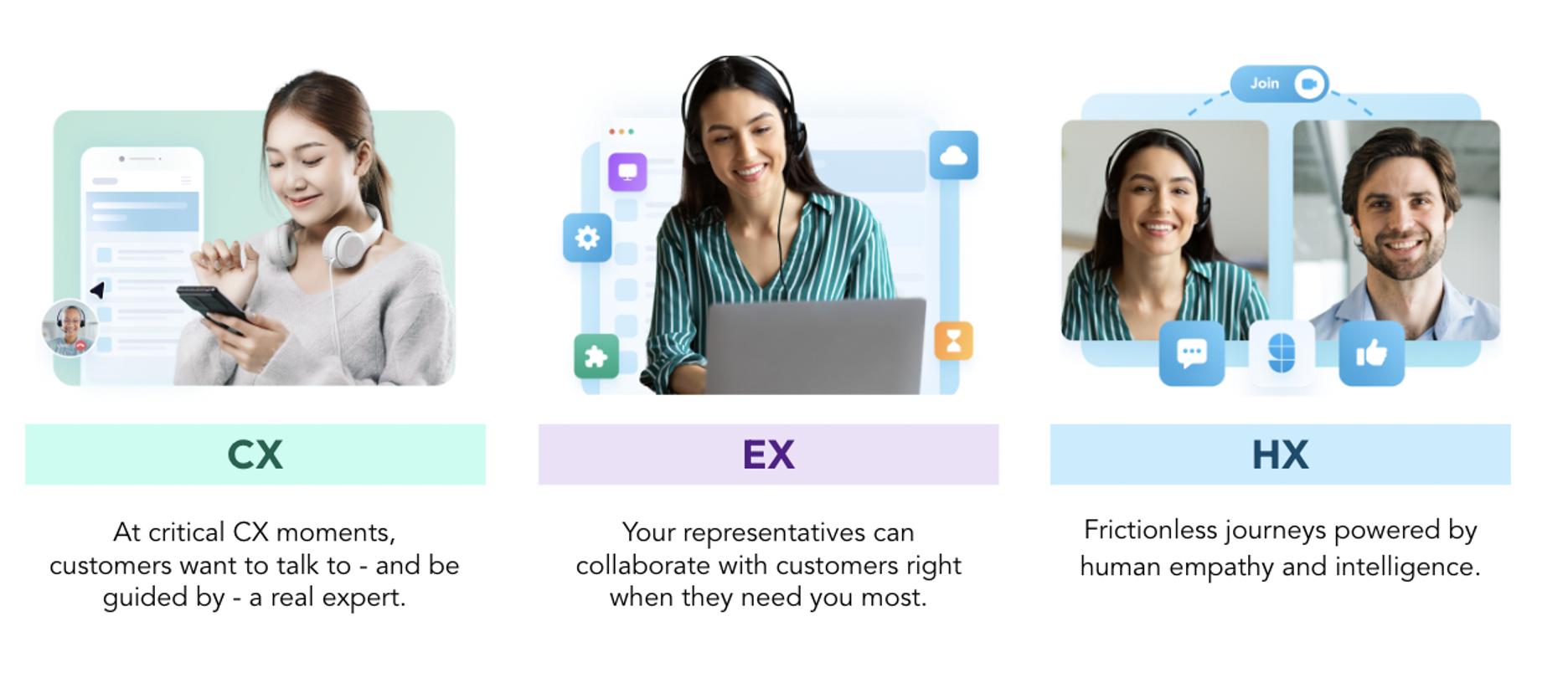 Real world examples of how Guided CX elevates live chat
Here are some ways CX leaders are leveraging Guided CX to enrich the live chat experience.
Banking and finance:

Guided CX lends a hand with website navigation, mobile app maneuvering, and even helps you figure out complex financial accounts, like retirement funds or banking statements.

Healthcare/insurance:

Guided CX steps in to help patients understand how to set up their member, broker, and provider portals, and then walks them through using those portals with a friendly virtual guide.

Software (SaaS):

Guided CX is the go-to for training and onboarding on new software features. It's like having a personal tutor to help you navigate those tricky user interface changes and get the most out of your software.

Remote support:

Guided CX plays a crucial role in remote support, especially when it comes to troubleshooting equipment.

ID verification:

Guided CX makes it easy to verify identification in a secure and hassle-free way.
No matter where you look, Guided CX is making life easier and more efficient across a wide range of industries and scenarios.
See Guided CX in action
Watch the demonstration to see how we connect people together frictionlessly. Heather Nightingale, Director of Product Marketing, and Chris Duncan, VP of Solution Engineering, walk through the importance of Guided CX in live chat and then show how easy it is to join customers or prospects in a digital property from a live chat session. Access the on-demand webinar below.
Watch the webinar: Beyond Words: Elevating Live Chat with Guided CX