At Glance, we enjoy partnerships with companies that share our passion for bringing humanity into the digital customer experience, which is why we are excited to announce our latest integration with Twilio Flex. Glance Cobrowse with 1-Click Connect™ now integrates seamlessly into Twilio Flex, enabling contact center agents to instantly see what callers are seeing on-screen and quickly understand problems without playing "The Game of 20 Questions."
Why we chose to partner with Twilio:
"Our partnership with Twilio provides Glance with a tremendous opportunity to expand our footprint in the enterprise market by giving Twilio's customers the ability to easily add cobrowse capabilities to digital interactions," noted Tom Martin, chief executive officer of Glance. "As the reliance on digital tools continues to escalate, this partnership will enable Twilio Flex end-users to provide a high-touch experience to customers who remain hungry for human-to-human service, sales, support, and consultation in a digital environment."
A few more reasons why we are excited about this integration:
Twilio Flex provides an omnichannel experience for contact centers. Glance adds the power of visual engagement as part of the omnichannel experience. Within Flex, Glance sessions can connect to existing communication channels such as chat, SMS, or voice.
As stated in the name, Twilio Flex is very flexible. Twilio Flex customers can customize the Cobrowse experience for their agents that plug in their existing workflows and systems.
The power of a guided customer experience with visual engagement
The key to a valuable customer experience is understanding the customer's pain points and guiding them to a solution. When agents can see what the customer can see and recommend the best outcome, positive results follow. Contact centers can see increased revenue growth through improved customer satisfaction and loyalty, and service center efficiency.
When Glance is embedded within Twilio Flex, agents can:
Securely join the customer, without any need for the customer to download or install 3rd party software
View the customer's screen and provide a guided customer experience
Show customers what to do by "gesturing" (pointing, drawing boxes, highlighting)
Provide consultation and resolve issues faster
"Enabling your contact center agents to view a customer's screen is an amazing way to get on the same page and resolve issues quickly," writes Lehel Gyeresi, Twilio Flex product manager, on the Twilio blog.
Features agents love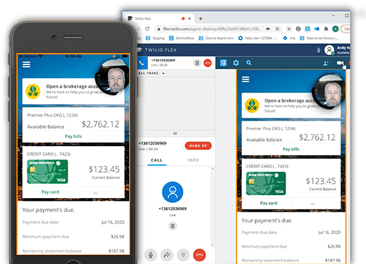 Glance was built to provide a guided customer experience using visual engagement. When integrated, agents can:
Launch a cobrowse session within Twilio Flex via a website, web chat, or a web app
Receive alerts when customers are present on a webpage and can connect with one click
Guide customers on all major browsers and mobile devices with no need for the customer to install or download software
Use Agent Video to humanize the interaction and build trust with customers
To find out more about the Twilio Flex integration, visit the Twilio Partner Showcase.